Inspired by summer vacations and travel, I used Rocky, our own Red Doberman in this design. Actually, I took this photo of Rocky while he was on our couch. I thought this design would be perfect as a moving and new address announcement card.
The front is the same on these "We've Moved" cards, however the insides are different.
The first one says " We've packed our most precious belongings and have moved into our new home!"
The second one says "Please stay in touch" and has places for your address, phone and eMail
I also thought that it was perfect for travel cards.
It is also available as a blank notecard and all designs are available as Postcards.
And of course, don't forget the matching postage!
It also makes a GREAT looking mousepad! Perfect for Father's Day Gifts or as a gift for a man.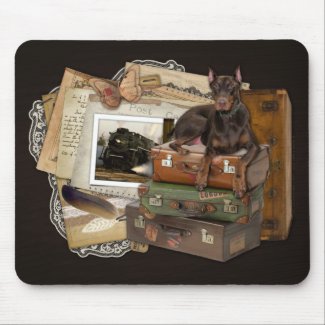 You can find more
doberman photos
at Fine Art America.