Thanks to all who attended the AAVENGE April Showers Doggie Wash hosted at
Happy Dog Bakery
. Even though it was a gray day that threatened rain....we had no worries due to plenty of room inside
Happy Dog Bakery
. Dogs were bathed, nails clipped and PAINTED...the girls had a rainbow of colors to choose from...then when they were all dolled up, I had the pleasure of photographing them! Here are just a few...but if you want to see the whole photoshoot...just click my
Photo Gallery
. Then if you want to see products using these pictures, click over to
AAVENGE April Showers 2010
.
Proceeds from this fundraiser went to AAVENGE and the Rock Island Student Council.
This is Archie. He is a mixed breed dog being fostered by Allison and is up for adoption to the right family. Archie was the life of the event showing everyone all the tricks he knows and showing off his frisbee skills. Lucky family that gets this pooch!
This is Carson a too cute West Highland White Terrier. We first met Carson at the photoshoot we did at Teagarden Pet Salon for the holiday portrait week we did there in 2009.
This is Evil...perfect name for this rambunctious Long Haired Chihuahua. We got some great shots of this cutie!
Meet Taz a Chocolate Dapple Dachshund. This little guy sure knew how to pose for the camera.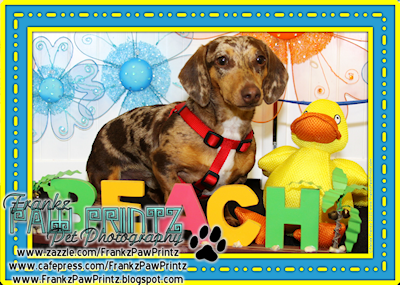 Here's Taz again with his partner dude Teal a French Bulldog.
And Tigger...this was an AAVENGE dog that found a forever home last year. We were so happy to see him again at this event!
This is
Romeo a beautiful Pomeranian that is owned by Natalie Tolomeo from CBS
.