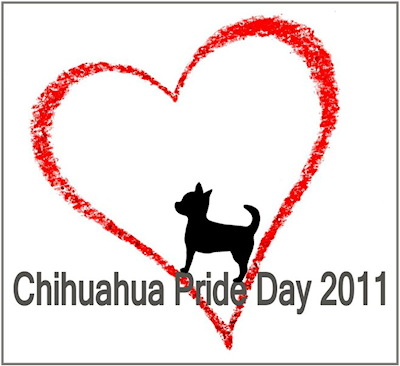 Saturday, February 12th, 2011 will be the day in the sun for Chihuahuas and Chihuahua mixes at the Pacific Grove Community Center, 515 Junipero Avenue for the
1st Annual Chihuahua Pride Day
. Event will take place from 1PM to 4PM.
The day will include training tips for small dogs and a dog agility course, pet photographer, a groomer providing pedicures and questions with the veterinarian. A costume contest will be held at 3pm with categories for Best in Show, Best Duo, and Funniest Dog.
Chihuahua Pride Day
aims to raise awareness and celebrate these wonderful and often misunderstood pint-sized companions. Proceeds benefit "The Lucky Fund," established to battle overpopulation through spay/neuter and education. Lots of Chihuahuas from
AFRP
,
POMDR
,
SPCA
,
Salinas Animal Services
and
Monterey County Animal Services
will be available for loving homes.
Friendly dogs under 25 pounds (sorry BIG guys) are welcome at the event and must be on a leash.
I will not be at the event due to being out of town....BUT, I have donated two $100.00 gift certificates for a private photo shoot on Carmel Beach and an 8" x 10" portrait.
There is still time to get Chihuahua MOM, DAD, DIVA and DUDE shirts for the event!
And check out even more Chihuahua themed products!